Announcement
Dannie "Fut" James (1951-2010 )
We will miss you...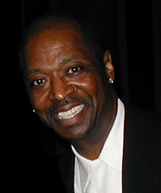 It is with heavy hearts that we announce on Thursday, September 23, 2010 at approximately 10:00PM our beloved Dannie "Fut" James passed away at age 59 from complications of multiple myeloma, a form of cancer. 
Fut was the co-founder of Impact Record Pool, one of the country's most influential record pools. As Executive Director, he supplied the best DJ's in the LA area with the latest music from around the world. Fut was one of LA's Music pioneers.  Fut mastered the process of breaking records from the streets up. He was a man that lived to share.  His spirit, talent and gift for teaching, touched lives both personally and professionally.  
Just a few weeks ago, Fut told me that he wanted to get better for the meeting. The meeting on Sep 27th was especially for him. It was filled with so much love and respect from each person.
On behalf of his family and relatives, we greatly thank you for your support and love.
My heart and my tears are with you, Fut....
One,
Tracy Kendrick
Impact Record Pool